Food Residue,Daily Trashes
Description
Food residue contains liquid. Thus, when compressing the food residue or daily trashes like bottles, tines, the baling machines need a liquid collecting tray for removing moisture. Select the baling machines for food residue that are most suitable for you. Besides, we are also available for customization. Contact us for your baling needs once your material is not on the list.
Effects
Before Baling
After Baling
The below machines are suitable for baling above materials


Compact Waste Baler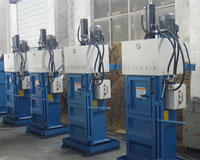 Related Products
Heavy Duty Semi Automatic Balers for Pressing PET Bottles
The Heavy Duty Semi Automatic Balers are a kind of balers that specializes in compressing loose materials like waste PET bottles, plastic film, plastic pallets, waste paper, cardboards, cartons, OCC, palm fiber, coconut fibre, alfalfa and so on....